Author: DVM PhD. Gustav Decuadro-Hansen. Virbac, France
Summary
The fertility of the breeding program for artificial insemination (AI) conditions the production of meat or milk, and its impact on the profitability of rodeos is accentuated when the economic situation of the agricultural sector decreases. Numerous factors affect the results of an IA. Factors associated with the handling and the female appear to be the most important, but those related to the male not be ignored as they can possibly be handled by the CIA. The aim of this paper is to analyze the factors of variation freezability and fertility of AI bulls related to the bull, ejaculate, age, season, family, number of sperm per AI dose and dose-rate semen, and present any difficulties related to the correlation between the in vitro evaluation of the fertilizing power of bull semen and fertility real.
Introduction
Many research works have shown that meat production systems fertility is the most important from the economic point of view. Breeding bulls is a multibillion dollar industry worldwide and we have found repeatedly that farmers or artificial insemination centers give priority in selecting the shape and type into the background leaving reproductive efficiency and freezability.
Breeders often require routine assessments of reproductive males (andrological examination) to confirm their fertility before a purchase or a sale, to control their daily sperm production (PED) especially in high-cost players, to assess the reproductive potential as a donor of sperm for artificial insemination (AI) with frozen semen or chilled, or for guidance in apparent infertility and / or testicular abnormalities. Such assessments depend breeding is achieved properly collect semen and above all an accurate assessment of it.
The lack of reproductive success is often due to more than one factor. Therefore a breeding soundness evaluation (EAR), include proof of libido or service capacity, an examination of the external genitalia, a measurement testicular, testicular palpation and internal genitalia, a seminal evaluation and ultrasound testis and prostate and seminal vesicles in some cases. Tests for sexually transmitted diseases, especially brucellosis, paratuberculosis, IBR, etc., Are a crucial part of the EAR.
When discussing andrological examination in bulls, the criterion freezability is little mentioned. However, in the current conditions of cattle breeding, frozen semen is the only one that allows the dissemination of genetic material in practical conditions.
The incorporation of a bull in artificial insemination center (CIA) is made primarily on the basis of their genetic value, considering his descent (pedigree), their individual performance characteristics and their offspring (progeny). The fertility of this player, a sine qua non to harness that potential genetic, or rather is evaluated at the CIA estimated by a thorough clinical examination and assessment of the quality of semen produced. Fertility or fertilizing power of a player can not be estimated directly, is verified only a limited proportion of the animal functions or gametes. The appreciation we do is partial because its negative predictive value is high, but its positive predictive value is low. As a rule are retained the young bulls which exhibit good scrotal circumference (EC), a high sperm concentration, motility good before and after freezing and few sperm abnormalities. The concentration is correlated positively with the individual mass motility (+0.4 to +0.9) and the percentage of total anomalies are negatively linked to concentration and motility (Dumont 1998). The young bull are also high correlations observed between the EC and the quantitative parameters of the ejaculate (concentration and total sperm number) (Coulter et al. 1987 Thibier et al 1972). Sperm viability parameters generally are evaluated in a CIA motility, membrane integrity and the acrosome. They are extremely sensitive to cooled at 2-8 C and freezing.This freezability bovine semen can only be assessed through the practice of freezing itself and there is little evidence that a veterinarian can take to learn this parameter. An interesting correlation was recently published (Evans et al. 2005), relating the push model of hairs on the front of the head of bulls with the percentage of morphological abnormalities of sperm in the ejaculate. Bulls with an insert spiral hairs frontal area of the head showed significantly less morphological abnormalities in the ejaculate than those who had not.
Some countries (eg France.) Employ a control test sexual function in young bulls during the last phase of individual selection before entering the animal in a production of semen. The purpose of this test is to avoid entering progeny test animals unproductive or low sperm production and freezability or whether it contributes to return on investment (pedigree bull selection and individual characteristics) and perform. This test consists of the evaluation of five collections doubles (10 ejaculates, the first two being eliminated). Semen parameters evaluated are: the volume, concentration, motility mass, an assessment of the presence of leukocytes, individual motility, percentage motility abnormalities and the immediate post thawing. In general 15-20% of fish are removed by this single test.
The fertility of the breeding program for artificial insemination (AI) conditions the production of meat or milk, and its impact on the profitability of rodeos is accentuated when the economic situation of a country's agricultural sector decreases.
The fertility of a bull is commonly used in IA evaluated directly by the "rate of no return" (TNR) or indirectly by studying one of its components: the quality of semen. The value of semen / fertility was widely studied, however, two factors influence the results of this research: a) The factor "ejaculate": The study of the relationship between the results of insemination and semen characteristics should be used only per ejaculate. This information is only available when the record can be identified and used straws after through the bar code system, b) factor "environment" driving conditions greatly influence the results of field and must be taken into account for the effects to present valid conclusions.
The TNR is the proportion of inseminated cows or heifers that are not detected in heat again in a preset time period: 28, 56, or 90 days. The TNR calculated over a short period (28 days) may be influenced by many factors such as aspects of herd management (heat detection, farmer's decision regarding the interval calving-IA), the intrinsic fertility of breeding (males and females) and early embryonic mortality (Humblot 1986). The TNR calculated over a longer period, 56 or 90 days, is in turn influenced by the late embryonic mortality.
We have seen in the last couple of years a decrease in TNR in different countries. The current trend in France is 0.5 percentage points / year.
Numerous factors affect the results (fertility) after a IA. The factors related to management and female are the most important for herd fertility and have been the subject of numerous publications. However linked to male factors should not be ignored since they can be optionally operated by a CIA.
The following review is based primarily on clinical experience and research of the author, as well as published literature reviews and the purpose of it is to analyze the factors that influence variation freezability and fertility of AI bulls.
Fertility Components
Fertilization or conception in an IA is the result of the deposit of the male gametes within the female genital tract by a human vector. The conception rate, which we commonly call fertility depends therefore a male component, of a female component and a component inseminator.
The model data analysis of fertility of cows and heifers allow precise observation of the effects of different factors related to the female (parity, calving interval IA, rodeo) and insemination (CIA, inseminator, month , day of the week). The importance of these factors will not be addressed here.
With respect to the male component, although the effect "bull" is easily measured, it includes the fertilizing power of the ejaculated semen and semen processing technique (diluent protocol dilution technique diluted semen cooling, freezing , thawing).
The interest in this distinction may not be frequent as all the ejaculate of a bull used in AI is "treated" in the same manner and fertility usable end product is what matters to the CIA professionals. However, it is important to make this distinction when performing different treatments of semen of bulls in a CIA.
The ejaculated semen fertilizing power and quality "technology" (ability to withstand cryopreservation) is the result of the intrinsic quality of bull semen and the effect of the immediate environment (technique and frequency of collection, season, stress, transient disease). Finally sperm quality depends on the interaction of a bull's own factor (genetic) effect and the "environment".
All these components linked to the male, the female and the inseminator can make an effect "additive" on either end fertility interact. Thus eg. Macmillan and Watson observed an interaction between the time of AI and the fertility of bulls. The fertility of three groups of bulls (above and below the average of the CIA) is different when AI was performed at the beginning of estrus (74.3%, 62.7% and 58.4%, p <0.01), without however no differences when the IA is performed at the end.
Estimating Fertility
The fertility of bulls is estimated by different parameters depending on the fertility of cows and heifers inseminated with semen. Pregnancy diagnosis by the dosage of embryonic proteins in the blood, as the PSPB (Humblot 1986), ultrasound or rectal palpation allow to establish the pregnancy rate in a herd of cows in a given time.However, other methods are employed on a large scale because of its simplicity and systematic character. They are based on the non-return to estrus cow.
The TNR early (24 or 28 days) overestimate fertility, as approximately only 50% of returns to estrus are or may be observed at that time (Humblot et al 1991).
On the other hand a late TNR estimator decreases interest because it can not reveal the possible presence of a problem. It is for this reason that Van Doormaal recommend using 56 days and Foote and Oltenacu recommend using 59 days after AI as the optimal estimator. It is interesting to note that the TNR 56 or 59 days show a high correlation (around 96%) with TNR 60/90 or 75 days (Taylor and col.1985) and turn this type of TNR is sufficiently early to estimating bull fertility used. The evolution of the TNR from semen samples at 25, 60 and 90 days was the subject of several scientific papers. Recently Decuadro-Hansen et al. (Decuadro-Hansen et al. 2000) studied the evolution of the TNR in 6 Holstein bulls growth test of unknown fertility in ejaculate split and diluted in two different diluents: Biociphos plus â"¢ (B +) and Bioxcell â"¢ (Bx), in 3 cups different dilution. They were so used three dose: 1) diluted in Biociphos plus â"¢ with 7 million total spermatozoa before freezing, 2) Bioxcell â"¢ with 7 million total sperm before freezing and 3) diluted with 20-plus â"¢ Biociphos million spermatozoa before freezing (control group). The evolution of TNR 25 to 90 days can be seen in Table 1.
Table 1. Evolution of TNR at 25, 60 and 90 days in prime-IA (n)

B + = Biociphos plus; BX = Bioxcell
It is evident that variation factors of TNR to 25 and 90 days are the same. The variation of TNR to 90 days is more related to the characteristics of the female population to TNR used than 25 days. The latter would be more influenced by factors that can act at the time of AI, such as handling (heat detection, calving-IA), the conditions of insemination and bull factor.
In another vein Dumont P, compare the TNR obtained from inseminations with semen from 27 bulls and 76 different ejaculates diluted Triladyl Bioxcell and egg yolk (split ejaculate) at concentrations of 8 to 12 million sperm per straw and no significant difference in terms of TNR (lettre d'Andrologie, No. 8 UNCEIA, in press).
The lambing rate refers to the number of cows and heifers that were inseminated and gave birth in a period compatible with the average length of gestation. The calculation of this estimator involves the systematic recording of births, which is not routinely performed in all rodeos. Moreover, this estimate is too late and can not be used as a management tool in a CIA. Rather is an interesting parameter to calculate genetic fertility rates (Boichard and coll. 1998).
All estimates of fertility IA obtained from classical require a large number of females to be statistically acceptable.In female, the result of fertility (pregnancy or emptiness) follows a binomial distribution and its accuracy depends on the observed percentage and the number of females. So for a 50% fertility observed over 100 cows, the confidence interval of ± 95% is 10 percentage points, while over 1,000 females is only 3.2 percentage points. The minimum basis of assessment of the fertility of a bull should be at least 500 IA (Haferstroh et al. 1999).
Another method for estimating in vivo fertility is to reduce costs heterospermia utilization. It consists of a mixture inseminate a similar number of spermatozoa of 2 or more bulls for the purpose of classifying them according to the number of each bull calves obtained. Calves must be identified phenotypically obtained otherwise be used "genetic markers" (DNA). The classification is repeatable and fertility obtained in relation to the IA monospérmicas requires a smaller number of females (Beatty et al. 1969). In turn, the use of infertile bulls not decrease conception rate of females and therefore no financial risk.
Factors influencing the ejaculate freezability
The success of cryopreservation depends on complex interactions between the original quality of the ejaculate, the type of solvent used, the type and speed of freezing – thawing and the size and type of packaging used for semen.
The factors can be classified into:
1. Factors influencing the fertilizing capacity of a bull
2. The handling steps and environmentally
3. The seed treatment technology
1. Factors influencing the fertilizing capacity of a player
1. A: Effect of sperm characteristics on fertility and freezability
Because of the complexity of the process of spermatogenesis is easy to imagine how changes experienced by sperm at the core and the membrane can trigger a problem. Thus acrosome abnormality of the sperm head or tail are rapidly detected in young bull enters a CIA, which can determine the disposal of semen production.
On the contrary if the anomaly is less obvious, such as those that alter the sperm membrane, the bull may enter a progeny test and / or used in IA if fertility is very low.
Sperm abnormalities (morphological or functional defects) can be classified into "netting" and "not compensable."This classification used by Saacke et al. (1994) corresponds to that used by Pace et al. (1981) of "extrinsic" and "intrinsic".
Compensable defects are those whose presence decreases the chances of fertilization, for example limiting the passage of sperm into the oviduct. The fertility decline is triggered by a decrease in the percentage of normal sperm in the fertilization site. The term compensable suggests that this problem can be "compensated" by an increase in the number of sperm in the straw.
By contrast, no netting defects are those whose presence does not restrict the passage of sperm or the probability of fertilization. In this case the abnormal sperm enter into competition with the normal. Strictly speaking these defects do not influence the percentage of fertilization but decreased pregnancy rate since they are responsible of embryonic mortality.
Among the compensable defects are those that alter the motility and the ability of sperm to train (acrosome reaction) among non-compensable are any inconsistencies with the sperm head, responsible for nuclear alterations, such as craters or vacuoles .
Whatever this anomaly is important to have an accurate working method to assess and reduce errors in the CIA.At least it would be necessary: dilute the sample, immobilize sperm, sperm evaluate a sufficiently large number (at least 200 sperm), work on phase contrast (ideal with interference contrast) and a minimum of x 400 magnification, and having staff trained and trained.
In addition to the probability that a sperm has to fertilize an oocyte and embryo develop normally, must take into account the type of abnormality present in semen, which indicates to what extent is impaired spermatogenesis of a bull. For example, the presence of "loose heads" or decapitated sperm abnormality is considered a less serious than the presence of the proximal drop. We think that a decapitated sperm is less likely to fertilize an egg a sperm having proximal droplet. However, it is universally recognized that the presence of proximal drop indicates a severe impairment of spermatogenesis. Therefore more importance should be given to the presence of a 20% drop proximal to 20% of sperm in the ejaculate decapitated intended for freezing. Many studies have investigated the mechanism by which the bull semen sperm damaged when arriving at 4 C or after freezing. While different parts of spermatozoa can be affected, is a membrane which appears as a major cause of cell death. The rupture of the plasma membrane is clearly associated with loss of cell viability, but not always intact plasma membrane indicates that the cell is viable. The damage that can occur in these can be changes in your organization, permeability and lipid composition. Sperm membranes that can be affected by cryopreservation include the plasma membrane, outer membrane and mitochondrial membranes acrosome.
In any case, cryopreservation, whose purpose is to ensure the survival of sperm, causing irreversible damage to the plasma membrane, leading to the death of large numbers of sperm or, in survivors, changes similar to those observed during sperm capacitation , causing a shortening of its useful life.
Morphological evaluation of plasma membrane integrity is performed using phase-contrast optics, the optical contrast or differential interference or Nomarski supravital stains such as fast green / eosin or eosin / aniline blue, the trypan blue / Giemsa or naphthol yellow / erythrosin. It has also been valuable examination by electron microscopy or scanning, for determining the integrity aspects of sperm. Currently, they are using different fluorescent dyes, which have a higher accuracy in the study of the characteristics of the plasma membrane. Thus, it has been widely using carboxyfluorescein diacetate and propidium iodide, displayed with this technique viable sperm green, against the dead observed red-orange. The functional evaluation of the same may be carried out by osmotic resistance test or Host. This test is based on the ability of sperm to capture half hyposmotic water and osmotic swelling that is associated with the winding of the tail of the sperm, which unwinds when the cell is returned at half isosmotic. For this to occur, the sperm plasma membrane must be full and the fluid exchange mechanisms operating properly. Water entering into these cells causes swelling and winding the flagellum. Cells with the physically or functionally damaged membrane not undergo changes in shape of the flagellum. The values obtained in this test correlate with other semen quality parameters, such as motility, viability and morphology.
Effect 1.b bull
Evidence for the existence of an effect on bull fertility of cows is commonly referred to in the literature (Everett et al. 1986, Humblot et al. 1991). This effect was expressed early after AI, and the classification does not vary greatly when studying TNR to 24 or 90 days (Humblot 1986). There is a correlation of 0.90 between the TNR 28 and 56 (Reurink et al. 1990) and 0.96 between 56 and TNR TNR 60/90 days (VanDoormaal 1998).
The amplitude of this variation between bulls is high when considering the intended AI progeny test because there were up to 42 percentage points difference in calving for a sample of 913 Holstein bulls used 300-700 IA (2).Outliers are rare because for this sample expressing fertility bulls thereof with respect to race, 26 bulls were strictly below -10, and 11 bulls were strictly greater than +6. The amplitude of these results was of the order of 3.9%, close to that observed by Everett and Bean (1986) on a sample of 4,500 bulls.
However, when considering service bulls, ie those tested which represent 85% of the IA made, the fluctuations are much more limited. In France, on 75 Holstein bulls, Montbélaird and Normans (IA 20,000 + each between 1996 and 1998), the lambing rate expressed relative to an average ranged from -8 to +4. Similarly, on the 20 bulls used in the Netherlands, the TNR ranged from 56 -5 to +2 (29). This smaller amplitude of TNR, is due to the culling of bulls of low fertility and growth test at the high number of IA performed which improves accuracy.
Effect 1.c ejaculate
Frequently observed in the CIA that an ejaculate quality is not constant and that in some cases the same or have a lower motility deficiency ratio greater. It is likely that such ejaculated fertilizing capacity is low, they really do not know as it is removed by the CIA. This practice helps to standardize the quality of the ejaculates of a bull and indirectly reduces variation between bulls.
In order to obtain high quality semen thawing, require high quality pure semen which is influenced by:
The sexual preparation before collection

Working with riding bulls in room

The collection rate

Feeding

The absence of pathology locomotives or penis and foreskin

The temperature

The bull itself ………….

The difference between the first and the second:
There are some differences between the first and second ejaculate collected in a bull session in the same collection. According to the author's experience deficiency ratio is always less in the second ejaculates collected, however the percentage of motile sperm when thawed differs significantly. Also, Schenk (1998) confirm a different composition in the seminal plasma of the first and second ejaculate: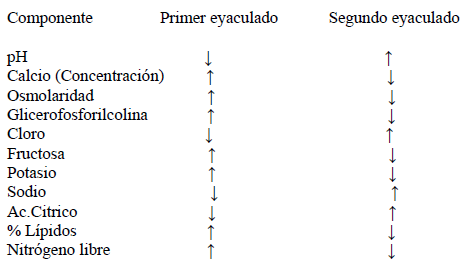 Seminal characteristics of the first and second ejaculate collected bull with 20-minute intervals (Schenck 1998)
Effect 1.d age
The age effect in relation to bull semen fertilizing power has been studied very little because of the lack oftraceability with respect to the date of production of the ejaculate and AI. However, this factor has been considered linking it to the female and the production year.
Thus, the fertility of a bull than 1 year may increase when turns 2 years as there have been more than 4-6 points in the pregnancy rate and calving in a study of natural service bulls on 748 cows ( Makarechian et al. 1993).
With respect to the old bulls, they showed a lower fertility in the study of Murray et al. (1983), where Holstein bulls of 14 years had an TNR 60/90 days in 4% lower in relation to yearling bulls. Actually the estimated percentage of calving Holstein bulls progeny does not differ from that of service bulls 60 to 107 months (Taylor et al. 1985) and reduced fertility begins to be seen from 5 years of age.
A study of the Holstein and Guernsey breeds showed regression of TNR in relation to the age of the bulls was significant for the two breeds from 2 years (Table 2) (p <0.01). This decrease was 0.31% of 2-16 years for Holstein and 0.50% for Guersney of 2-13 years (Collins et al. 1962).
Table 2: Regression of fertility of Holstein bulls in relation to age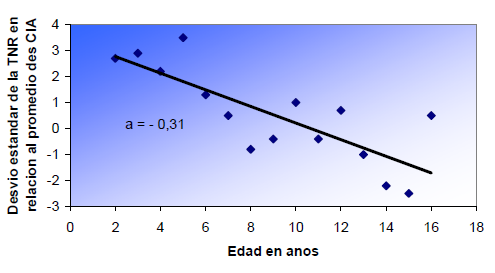 Effect 1.e family
A family of bulls is defined as the set of male calves born of the same father. If fertility of males is "heritable" observed fertility bulls or progeny growth test should logically be influenced by the parent.
So calving results obtained from inseminations performed in France between 1996 and 1998 allowed us to observe the fertility of bulls born growth test of 13 families of three breeds: Holstein (n = 9); Montbéliard (n = 3) and Norman ( n = 1). Each of the families consisted of no less than 40 bulls, 300 which performed between 96-98 IA.Among the phenomena observed among those families struck the results of three of them who provided calving rate consistently lower than their average and variability.
Effect 1.f chromosomal abnormalities
One of the studies to be performed when you get a low TNR in a significant number of females in different establishments with frozen bull semen that does not have problems with sperm quality (motility and normal morphology) is the karyotype. The first chromosomal abnormality in cattle related to fertility was discovered in 1964: 1/29 translocation.
In 2000 Ducos et al (2000) studied a case of low fertility field (<30% on over 400 IAP) in 3 Montbéliard breed bulls.Cytogenetic analysis revealed the presence of a chromosomal translocation 12:17.
2. The handling steps and environmentally
2.1 Collection of semen and mounted room
The room work done by the team mounted a CIA comprises a sexual preparation or pre-excitation period and an excitement phase false itself composed of succubus or mounted on a mannequin.
All CIA responsible for this phase must accompany and monitor it at least once every 15 days. There is in the opinion of the author no other team in a CIA that can so significantly influence the quantity and quality of semen.The semen collection significantly influence the quality of semen produced through its staff, the quality and cleanliness of the room mounted, type and preparation of artificial vagina., And the rate or frequency of collection.Optimize the frequency of collection for the purpose of reducing the reserves of semen in the epididymis and epididymal transit increase is one of the oldest methods for improving the quality of semen (Amman, 1961).
In general the CIA in Europe and North America using a collection rate of 2 x 2 (2 ejaculates two times per week).It is interesting to note that in general the bulls collected at this rate have a higher quality after thawing in the second ejaculates collected (Schenk 1998). In general, it is highly recommended to stimulate sexually bulls before collection. This management practice can be divided into two phases: a) pre sexual arousal in dairy bulls 15-20 minutes and 30 minutes in beef bulls of European races placing animals in a jam room adjoining the collection and allowing animals observe the other bulls jumping, b) false ride, one of the best techniques to produce semen quality and quantity in European breeds bulls practice two false mounts restricted 5 minute wait beside the succubus and third false mounts before and collecting (J Schenk 1998).
An interesting paper was presented by J Yates in 2002 comparing the performance, libido and semen characteristics before and after freezing and Braham Holstein bulls collected in daytime and nighttime. Despite a better response to the collection in the nocturnal difference was not found in the semen freezability.
2.2 Effect of year
In small ruminants is common factor "seasonal" on semen quality and fertility. The spring is a period for most unfavorable sheep breeds, due to increased duration of "daylength", which are sensitive sheep and goats (Colas et al. 1983, Corteel et al. 1980) .
In cattle the seasonal variation in fertility is more discreet but known since the sixties (Courot et al. 1968). The use of frozen semen technique in cattle allowed to distinguish male responsibility and female on season, which was not possible previously when only fresh semen was used.
Thus, the work of Courot et al. (1968) in France showed that semen from bulls produced Montbéliard breed in spring was more fruitful than that produced in autumn (2.4 points more than TNR 60/90 days). By contrast, Sullivan and Elliot (1968) found less TNR 60/90 days (74.2%, P <0.01) obtained with semen produced during the spring and summer, than that obtained with semen produced in autumn and winter (76.3%).
For Everett and Bean (1986) also the effect "month" semen production significantly influence on fertility, by varying the conception rate within ± 1.33%. In contrast, other studies have shown a clear effect of the production month on TNR 30/60 and 60/90 days (Dimitripoulus 1968) or on the lambing rate (Sullivan et al. 1968).
In Latin America highlights the work presented by Brazilian researchers in the Southeast region of the country: Anchieta et al 2005, compared to zebu breeds bullfighting into two seasons: rainy and dry, both at high temperatures (> 19 C). In general, the freezability the semen, judged by subjective assessment to the collection, was higher in the taurine breeds than in zebu and ejaculates discarding higher in rainy seasons.
2.3 Power
There are few studies that have related feeding bulls CIA to production and semen quality.
The author employment for several years in CIA in Europe with bulls housed two feeding strategies that players as they have been in semen production phase or lay-off (sexual rest).
Bulls in production:
Hay

alfalfa

or prairie at will

Litter

Concentrated ration (3-4 Kg / bull / day K Holstein and Norman 1-3) with 14.5% protein, 2.3% fat, 12.3% crude fiber, 7.6% ash
Bulls in lay-off (16 months 3.5-4 years):
15 K of corn silage

Hay 7-8 K

400 g per day of soy concentrate and minerals for bulls with less than 24 months and for those with more than 24 months only minerals.
One of the most known in the CIA is the negative impact of high energy diets. Indeed, Coulter et al (1997) have highlighted the undesirable effect of high-energy diet (80% grain and 20% forage) in weaned beef bulls of Angus and Hereford, which induced a significant scrotal circumference but reduced testicular tone and testicular thermoregulatory capacity less efficient. Furthermore, examination of semen from bulls fed and revealed a higher percentage of abnormal sperm and a lower number of progressively motile sperm compared to bulls fed diets less energy.
Feeding the bulls played a key role in the development and emergence of hoof problems, manifestations of ulcers and white line abscesses are many episodes of lameness. Both diseases (except the white line abscess caused by trauma) are a consequence of the inability of a hoof corium to produce quality food and it plays a decisive role.
Sudden changes in diet, low quality of silage, short fiber in the diet lead to less salivation and thus to effect a reduction in saliva buffer having in the rumen so that the risk of acidosis will increase.
In order to prevent hoof problems in bulls is necessary:
Keep the housing of bulls clean and dry, providing a bed in the chute either straw or sand or water,

Taking care of the floor of the room to be skid mounted and side slope, including a rubber mat 3 mx 2 m in the collection,

All floors where animals stay for some time (including the room mounted) should be treated by acetic acid 10 days before entering the bulls (1 liter of vinegar diluted in 10 liters of water, neutralize the cement at the rate of 5 liters per 100 m2)

Always perform a gradual transition food for at least 10 days to allow rumen flora suits,

Perform toilette (cut functional) hooves 2 times / year

Supplementing the diet of bulls with raw materials involved in hoof health: Zinc, methionine, cysteine, Vitamin A and E, Biotin, Ca, P and Ca / P (very important in bulls), Copper, Selenium, Sulfur.

Use sodium bicarbonate (200 g / day) if diet based on silage
Zinc supplementation (eg organic form. Propionate) in diets of bulls has been recently revised. Zinc influence the production and secretion of testosterone, insulin and consequently adrenal corticosteroids such as esperamatogenesis processes are in part mediated by the mineral (Mc Dowell et al. 1993). Kumar et al. 2006 found that some of the bulls semen parameters supplemented with 35 ppm organic zinc (mass motility, sperm count per ejaculate and sperm penetration test in cervical mucus) were improved after a period of 6 months supplementation.
3. seed treatment technology
3.1 Effect Diluent
From developing cryopreservation of semen (Polge, 1949), egg yolk, bovine or human albumin, milk, a base composed saline, and glycerol were used in the bovine semen extender. In bovine, most of extenders except those with milk, have 20% of egg yolk or a substitute of the same in composition. The role of egg yolk during freezing is to protect the sperm from harmful effect of dilution and the "cold shock" that occurs during the process of freeze-thaw (Moussa et al. 2001). The mechanism by which egg yolk protects sperm is hitherto unknown. In general the egg yolk is used chicken, however in recent years and species considered "hard freeze" (ex. Baudet du Poitou Donkeys) has been used quail egg yolk that is characterized as richer than chicken egg yolk phosphatidylcholine, at least fosfatilidiletalonamina and a low ratio of saturated and unsaturated fatty acids (Trimeche et al. 1997).
Recent advances in bovine semen extenders can be classified into:
1. those related to the protection of the membrane during the freeze-thaw process
2. those incorporating a character antioxidant substances in the diluent
1. those related to the protection of the membrane during the freeze-thaw process
1st: It is recognized that sperm suffer damage during congelacióndescongelación exceeds that caused by dilution or addition of glycerol The same effect is caused by temperature and osmotic and affects the morphology and physiology of sperm including intracellular calcium regulation, the fluidity of the plasma membrane permeability, lipid composition and mitochondrial activity (Watson 1995) and induces the loss of plasma membrane proteins required for fertilization in the genital tract of the cow ( Lessar et al. 2000). The damage caused by this process can be reduced using cryoprotectants such as glycerol, egg yolk and sugar in diluents. A new generation of bovine semen extenders (Biociphos plus â"¢, Bioxcell â"¢, Andromed â"¢) made an appearance in the mid-90s, these synthetic diluents without animal products. The main characteristic thereof is to employ a substitute for egg yolk.The main objective of this type of product is not to improve the response to freezing, but to avoid bacterial contamination of the diluent through the egg yolk (which can reach proportions of more than 10 6 CFU / ml , Decuadro-Hansen 2004) and facilitating the manufacture of the diluent in CIA daily and reading to improve the frozen semen microscope (sharpness of reading). Numerous field tests have confirmed the excellent TNR obtained versus diluent such diluents based on egg yolk even in low concentration of spermatozoa frozen doses (see table 3).
Table 3: TNR after artificial insemination with frozen semen obtained with doses of 15 and 5 million total spermatozoa diluted in Tris-based diluents-egg yolk (Triladyl) and diluents without egg yolk: Bioxcell and Andromed. The 5000 field test includes IAP diluent (Nehring et Rothe H L 2003)

However, some parameters will persist or interactions that can promote a diluent in relation to another either with or without egg yolk, for example, the "speed of cooled semen" of +32-34 ° C to +2-4 ° C, total sperm count or motility used that can "hide" the differences or "preference" that semen may have a thinner relative to another. For example if we compare 2 diluents together under field conditions would be interesting to reduce the concentration of sperm per dose, in order to detect significant differences regarding TNR diluents.
It is highly likely that some semen of bulls "prefer" a diluent in particular with respect to another. When comparing two or more diluents, to reduce the effects of the factors influencing fertility should be systematically used the technique of "split ejaculate" better in one or several CIA. This allows comparison thinners eventually reducing the factors that can influence the test, such as: the CIA, the treatment of semen (dilution protocol, cooling and packaging), the factor and factor bull ejaculate
1.b: LDL (low density lipoprotein egg yolk) and cholesterol: Many authors have mentioned that the fraction of low-density lipoproteins of egg yolk known as LDL interacts with the sperm membrane during congelacióndescongelación process and is responsible for protection during dilution and cryopreservation. A new method of extracting the LDL was developed at INRA in Rennes (France) and bovine semen experienced with excellent results. The thus extracted LDL has been employed as diluents lipoprotein source to Tris base, citric acid and fructose allowed commercial and cryoprotectant confirm the role of this molecule as well as the optimum concentration in bovine semen diluents: 8% w / v (Anton, INRA Rennes personal communication). The results obtained by the team-Amarat Briandt et al. (2006) have confirmed the beneficial effect of this new LDL extraction methodology as more motile sperm (54.4%) were found to defrost with the use of a Tris-based diluent, fructose citric acid + 8 w / v LDL with the same diluent added 20% egg yolk (30.2%). In another vein, Graham. et al 2006 reported a better viability of bovine semen when it is pretreated with cholesterol and cyclodextrins, however do not exist until today no field test to confirm that this freezing pretreatment to improve the results of fertility bulls problem.
2. those incorporating substances into character antioxidant (AOX) in the diluent
The dynamics of the plasma membrane of sperm cell plays an important role in the maturation, fertilization and training (Wolfe et al. 1998; Mí¼ller et al., 1999), but the increase of free radicals (ROS ) can damage (Clarkson and Thompson, 2000) and one of the main causes of deterioration spermatic is causing oxidative stress lipid peroxidation of plasma membrane fluidity and alter modifies the permeability, which can lead to cell a process of cell death (Batellier et al., 2001).
The sperm membrane containing a high concentration of polyunsaturated fatty acids which it transmits to a high susceptibility to problems of oxidative damage (oxidation or peroxidation) which can interfere in the process of fertilization. This phenomenon was recently confirmed in the work of Kasimanickam R et al. in 2006.
Based on the above can be considered a promising area of research is the possible pretreatment against peroxidation processes of sperm or dilution medium to protect or preserve the integrity of the membrane during the process of freezing and thawing (Leboeuf et al., 2000), since it is known that the metabolites generated by the ROS during oxidative processes disrupt sperm-oocyte, sperm motility and DNA integrity (Aitken et al., 1998).
ROS accumulation is also checked during the conservation of fresh bull semen and after thawing of the semen.
This " stress oxidative "has been associated in human sperm with low fertility and abnormal embryonic development (Aitken et al, 1996; Griveau and LeLannou, 1997, De Iuliis et al, 2006).
Antioxidants are normally present in sperm and seminal plasma. Some of them are non-enzymatic molecules as α-tocopherol, ascorbic acid, glutathione (Halliwell and Gutteridge, 1989) pyruvate (of Lamirande and Gagnon, 1992), taurine, and albumin hypotaurina (Alvarez and Storey, 1983).
We have conducted several experiments using AOX substances in different animal species to improve semen quality and fertility. To date, few results are really inconclusive. Bilodeau et al. (2002) working with a Tris-based diluent-glycerol yolk found that the addition of oviduct fluid rich in pyruvate catalase and maintaining the viability and motility of sperm as well as intracellular ATP levels when semen was challenged with H202 . Foote et al.(2002) used reduced glutathione (GSH), superoxyde dismutase (SOD), ascorbic acid, hypotaurina, Tempo and Tempol in a milk-based diluent. Among the AOX GSH used only managed to improve in vitro parameters of semen thawed liquid and no significant increase in fertility field.
Rond Bing et al (2001) found that the addition of glycine betaine (100 or 200 mM) to diluents Talp-type egg yolk or Three-Test-yolk significantly improved fresh sperm motility at 20, 5 and 0 C in low and good bulls freezability.
Identification of the effectiveness of the antioxidant in the semen:
To challenge the ROS semen Gérard et al bovine semen diluted added increasing amounts of hydrogen peroxide (from 0 to 1 mM) and tested 36 molecules with antioxidant activity at concentrations of 50 micro m to 5 m to measure the protective role of some . Only 4 (designated as N, AC, AE and AF) of the 36 molecules tested allowed maintaining motility and sperm vigor (see table 4 case of AC).
Table 4: Evolution of the percentage of live sperm thawed challenged with increasing amounts of H2O2; (AC versus control).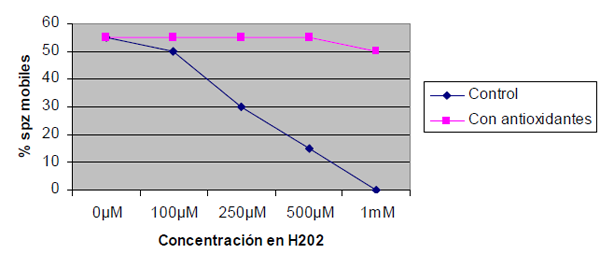 AXO effect on the characteristics of the sperm in vitro when they are added to the commercial thinners. Fresh semen or fluid (Gérard O 2006)
11 semen production centers in France participated in the following test
a) fresh semen: Semen collected from bulls July 2 times a week for 3 weeks was treated by the technique of "split ejaculate" in 3 fractions and diluted with a diluent Trisyema based commercial egg (control, A01 Tris-yolk AOX enriched with 1 mM N-Tris A05 AOX N yolk enriched with a 5 mM, see Table 5). The addition of the AOX had a clear positive effect (motility and force) at the concentration of 1 mM from day 2 to day 4.
Table 5: Evolution of the percentage of motile sperm in each ejaculate fraction of 7 bulls (21 samples).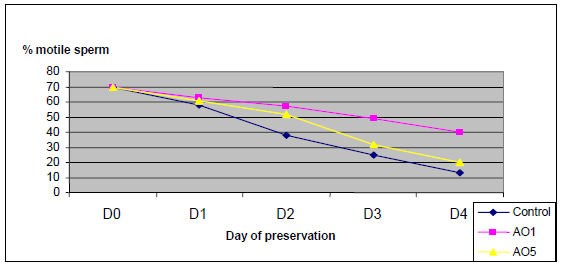 AXO effect on the characteristics of the sperm in vitro when they are added to the commercial thinners. Frozen Semen
10 bull semen collected 2 times per week for 3 weeks was treated by the technique of "split ejaculate" and diluted with a diluent Tris based commercial egg-yolk or synthetic diluent without animal products enriched or not with 4 different AOX and 2 different concentrations. Frozen semen thus produced was evaluated by phase contrast microscopy and CASA system (Ivos HT) for motility parameters and force and flow cytometry for viability parameters. AOX Only N and AC at a concentration of 5 mM showed a positive response. 4 The results of the CIA involved in this test are in Table 6. When 5 mM were used sperm viability was not significantly different, but if the speed parameters.
Table 6 : Influence of the addition of N and AC at two different concentrations in semen quality parameters (Experiment N, n = 80 ejaculates, 4 CIA, 10 bulls, two collections of semen, Experiment AC, n = 40 ejaculates).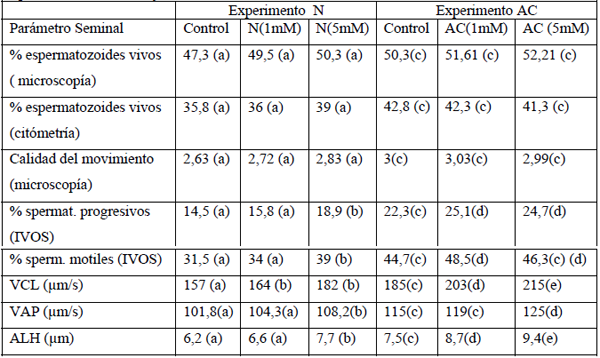 Given these promising results was conducted a field test with fresh semen and frozen semen.
Fresh Semen:
3 Holstein bulls and semen were collected in two installments by the split ejaculate technique and diluted in Tris-egg yolk, egg yolk-Tris + AOX, doses were concentrated with 5 million total sperm each. Parallel semen from the same bulls but other ejaculate was collected diluted with Tris-frozen egg yolk.
Table 7: TNR18 using FC-75 (fresh semen Control), FN (AOX fresh semen with 1 mM N) and frozen semen (FS) (Gérard O 2006).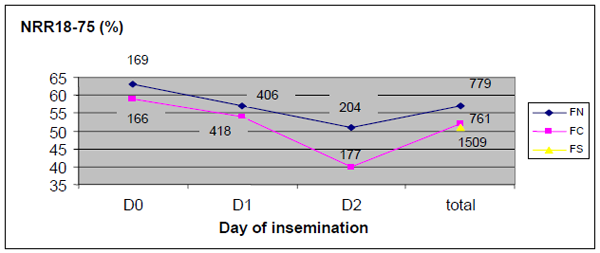 Table 8: TNR18 using FC-75 (fresh semen Control), FN (AOX fresh semen with 1 mM N) and frozen semen (FS), earnings per bull (Gérard 2006).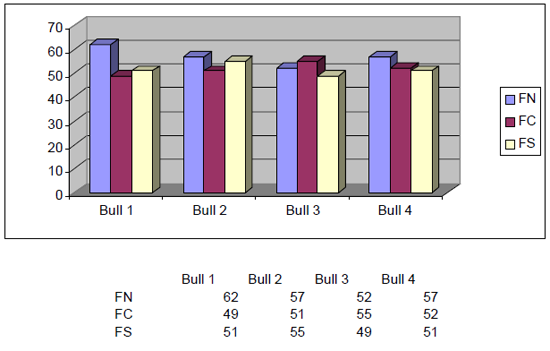 AOX adding diluent to significantly increase the bull TNR 1 and 2 (+ 13% and + 6% respectively, Table 7 and 8) was slightly depressed, whereas on the torus three (-3%). A note that for all the TNR bulls was higher in N-enriched fresh semen in frozen semen.
Frozen semen (Gérard O 2006)
Several tests were performed to confirm the beneficial effect of using AC AOX in the diluent used to freeze bull semen and not the purpose of this paper to describe in detail. In general, although there is a bull effect, the addition of AOX AC improved the fertility measured by TNR 90 days at 3 points (Table 9).
Table 9: TNR90 per bull (CIA) and sperm fraction (enriched dose versus control inseminations AC 1811 1707 inseminations)

3.2 Effect of sperm treatment: cooling curve
Once collected the ejaculate are few methods to improve semen quality after thawing.
The bull semen collects in general and sterile dry tube without diluent. A recent study (Wendee 2007) narrates the benefits of making the collection on a device called BreedMaX â"¢ which contains diluent within which to be warm at 37 C before collection. But the bull semen diluent may remain some in a water bath for a period of 30 minutes.Indeed, at the end of the 60 some CIA practiced this method called "holding" (pure semen Maintenance 10-30 minutes in a water bath before dilution). It is part of what is still performed when two collections are made on a 20 minute interval, however it is the opinion of the author that in highly concentrated ejaculates (> 2 billion spermatozoa / ml) it is interesting to perform a pre dilution.
Much care and time used in the laboratory respected the CIA are designed to prevent cold shock.
In general, after collected, semen must be cooled to 4-5 C gradually (1.5-2 h minimum) and then equilibrated (timeout at 4-5 C to freezing) for 3-24 h. It is the author's opinion that little has been experienced with the first phase of the curve (37 C to 4.5 C). For example, diluting and filling paillettes at room temperature, the author obtained good results with sperm motility and viability qualified mediocre collection post examination lowering temperature from 20 C to 4 C in 160 minutes at 0.1 C / minute in a programmable freezer (IMV-Technologies Minidigtcoll). It is possible that such temperature drop is more regular, homogeneous and cooled slower than the mass carried in containers where the technique is not standardized (decrease with the container immersed in water bath or not, the refrigerator power quality , etc.).
However, much experience has been performed with the equilibration and shown more importantly the time of incubation of the diluted semen at 4-5 C the time at which the semen is in the presence of glycerol (Salisbury et al 1978).
The work of Gilbert and Almquist (1978) as well as Frijters (2003) are for a prolonged equilibration 9 and 16 h respectively due to better motility percentage of acrosome normal viability (membrane integrity) obtained against shorter equilibration periods. The use of long equilibration times were experienced by Foote and Kaproth field (2002) who compared in a large scale test (14,000 IA) two equilibration times in bovine semen diluted with milk diluent: 4 versus 28 h without observe significant differences in fertility. In France the average equilibration time is now 5 hours.
Pribenszky et al. (2006) showed a substantial improvement of results of thawing and fertility of bovine semen after the paillettes were treated with 300 bar pressure for 90 minutes at room temperature before cooling to 4-5 practice C. This strategy may be of interest to low freezability bulls is however necessary to evaluate a number of important sires.
The type of packaging used to contain semen: straws fine, medium, pellets influence the freezing curve, however there are few scientific papers have compared in split ejaculate quality of each package against the fertility field. In general the author sees no significant differences in fertility between thin straws and half in accordance with Kupferschmied (1982).
The semen freezing techniques have evolved itself significantly in the last 10 years. Today the majority of the CIA have a modular programmable freezer allowing cooling curve in the rhythms of 0.1 C / min to 60 C / minute. The temperature drop curve for bovine semen can be performed at different speeds (Saacke 1982), but in the opinion of the author the best results are obtained with a rate of descent of 40-50 C / min between -10 and – 100 C .
3.3 Effect of sperm number per dose of IA
One of the major concepts with regard to the evaluation of fertility of bulls is the ratio between the quantity and quality of sperm. Within this concept proposed by Salisbury in 1961 (32) is considered for a given characteristic of semen, fertility increases with the increase of the same up to a maximum value from which the limiting factors are other semen characteristics or female population.
This "feature" can be: 1) a qualitative factor of the ejaculate (motility, seminal plasma proteins, etc.), 2) the number of sperm inseminated, or 3) or the number of sperm with a particular feature. Pace et al. (1981) and Den Das (1992) showed that this relationship with fertility really exist for the number of sperm that have a series of feasibility criteria. This means that the number of sperm inseminated (not the percentage) who have certain parameters of viability (motility, acrosome integrity, ability to react to the osmotic resistance test, aptitude through a Sephadex filter, etc.) Is correlated with fertility. This relationship is exponential and tends to asymptote (Figure 1).With respect to the number of spermatozoa with progressive motility, Pace et al. (1981) reported that TNR 90 days decreased by 4.9% when the number of motile sperm after thawing from 8 to 2 million doses.
In another study, Foote and Parks (1993) stressed that fertility declined by 1% (p <0.05) when the total sperm count increased from 24 to 12 million. However, this effect of the eventual decline of fertility in the number of sperm is not observed in all bulls.
On the other hand it is important to note that the bulls classified as "infertile" can not reach a correct or commercially acceptable fertility, despite using highly concentrated dose of semen in sperm (34).
Januskauskas et al. (1996) compared the fertility results obtained with 5 bulls that were used in IA with a concentration of 10 to 15 million sperm per dose. Two bulls fertility remained while the other three lost from 3.4 to 4.7% of TNR 56 days. It is interesting to note that the worst performing bull fertility was less fertile even with 15 million sperm.
In general low fertility bulls required more sperm per dose to achieve maximum value TNR Stalhammar et al.19943). In turn these bulls fail to have a TNR within what may be considered as acceptable in spite of increasing the concentration of sperm in the straw. These two notions: 1) slower increase fertility depending on the number of sperm inseminated and 2) reached a maximum lower fertility bulls to other CIA reminds us of the principles mentioned in the beginning as compensable and non-compensable factors. As shown in Figure 1, the bull is reference to the bull B has a deficiency that can be compensated by increasing the concentration of sperm in straws and bull C has not compensable factors that prevent you from achieving acceptable TNR.
Figure 1. correlation between fertility and sperm count inseminated in 3 different bulls, A, B and C (TA, TB and TC).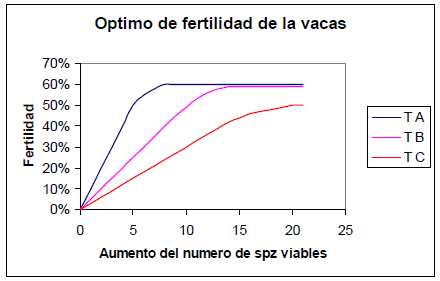 3.4 Effect of number of viable sperm per dose IA
Since the beginning of AI in cattle, the CIA sought a simple, precise, effective and fertility related field to assess bull semen. Tests of semen volume, mass and individual motility and concentration are particularly effective in removing straws ejaculates or poor quality but ineffective in determining the fertility of bulls.
For example, subjectivity and imprecision of the control of post-thaw motility of bovine paillettes harmonization precludes the acceptance criteria of semen between CIA. In recent years, a number of laboratory tests have been developed to evaluate other seminal parameters such as the integrity of the membrane or acrosome spz, based on the use of solutions hiposmóticas or fluorescent dyes using a FACScan flow.
Christensen et al (2000) developed a method to study the relationship between sperm viability estimated by flow cytometry (FACSCount â"¢ BD/SYBR14/PI) and field fertility. Decuadro-Hansen et al observed a positive correlation between TNR and the number of viable sperm per dose of IA (Figure 2) in a field trial conducted in France with 13 different bulls and 2154 IAP.
Figure 2: Number of viable sperm per dose of IA x TNR 60/90 d (r ² = 0.69, P <0.01).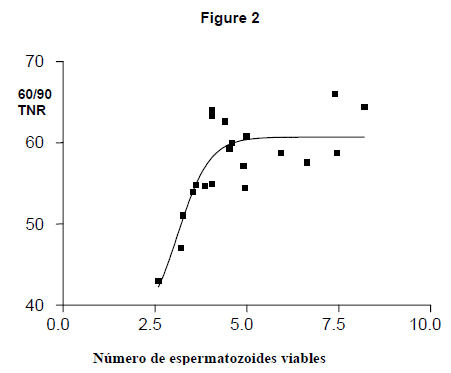 3.5 Price of semen doses
The selling price of the semen dose is a factor that the CIA should be considered when analyzing the fertility of a bull. For example in Canada, Van Doormaal, (1993) found that doses of less than $ 15 Canadian had a "fertility" more expensive than those. Indeed, these doses producers use more expensive on cows of high genetic quality and therefore a higher milk production, which punishes the fertility of the doses used. Thus an increase in milk production of 1,000 kg resulted in a 3% decrease in the TNR 28 days and 4% in 90 days TNR (1999).
Choosing a number of sperm / dose
Due to simplify the work, most CIA used a common goal for all bulls, which is expressed in the number of sperm per dose or number of progressively motile sperm per dose.
The existence of numerous sources of variation in fertility (bull, ejaculate, season, number of sperm, IA, female) imposes the CIA pick a number of sperm per dose rather high, which provides a margin of safety. This justifies the use of large amounts of sperm per dose in dairy breed bulls (approximately 20 million), which according to the percentage of progressively motile sperm after thawing obtained (eg 30-50%), allows have between 6 to 10 million progressively motile sperm per dose for the majority of the ejaculate. The TNR average 90 days to expect according to the formula of Pace et al. (1981) would be 70.4 and 71.4% respectively.
Relationship between in vitro and assessing the fertility
It is common in the CIA to limit the examination of a single thawed semen motility evaluation of immediate or delayed (RTD test). However, Amann (1961) and Pace et al (1981) demonstrated more than once that dose had an adequate number of progressively motile sperm on thawed could be responsible for a small percentage of fertility. Also Stalhammar et al. (1994) estimate that while motility before and after freezing is different between a CIA bulls, it only represents 1% of the variability of the TNR.
The use CASA systems allowed objectivity to give motility parameters and study other not detectable by the human eye. Recently Hallap et al (2006) found an interesting correlation between field fertility and some parameters HOUSE: measure the average speed (VAP) (p <0.001), total motility (p <0.01), linearity (p <0.05 ) and the number of motile sperm (p <0.05), all measured after the swim-up practice.
The evaluation of a player in a CIA admission consists of a thorough clinical examination, with special attention to the genital tract and the musculoskeletal system, a series of additional tests intended for health control (serological, venereal disease control, Schalm test, etc. ), and a detailed examination of the characteristics of the ejaculate: volume, concentration, motility, examination of morphological abnormalities of sperm (minimum 3 on the second ejaculates), and assessment of fitness to freezing (motility, acrosome integrity, membrane). After this evaluation of the reproductive potential of the bull, the animals are generally classified into acceptable, unacceptable or regular. Animals generally classified as "acceptable" and "regular" get inside the semen production scheme, knowing that the latter will suffer further consideration. Animals "infertile" are usually removed within this framework, however we must always remember that it is "risky" only want to classify animals on the basis of the findings in vitro. As we know, there are important differences between the CIA and laboratories concerning disposal criteria and straws ejaculates a bull which shows the lack of harmonization and the subjectivity and vagueness of the criteria generally used (motility) to qualify a player . Indeed as we saw, the factors that influence fertility are numerous and interact. In vitro evaluation is delicate because the correlation coefficients between the same and fertility in vivo rarely exceed 0.4. This is due to the low variability among bulls used in AI (which are selected for this character), a high concentration of sperm per dose and the many co-factors that influence fertility. As a general rule there is high correlation between the in vitro evaluation tests of semen and fertility.
However a significant correlation, next to one (r = 0.99), was found by Christensen et al. between sperm viability assessed by flow cytometry and Fertility (2000).
Within semen parameters that could be considered as TNR highly correlated with include: individual motility of sperm in the ejaculate immediately after collected fresh and immediate thawing motility (Christensen et al 1999).
The approach we favor is fertility calving rate or failing an NRR late.
Practical problems in the evaluation of fertility
Assuming that all aspects related to the female and the IA are properly controlled, the fertility of AI bulls not characterize the fertilizing power of the player but the fertilizing power of the semen doses used. However, many factors can confuse us in assessing the fertility of a bull, especially considering the elements on which we will calculate the fertilizing power (Table 10).
For example, if we want to estimate the fertilizing power from straws used, male fertility observed enables to obtain a good estimate little influenced by the factor inseminator and female, as the semen is of good quality and the IA number of important.
Table 10: Factors to consider when you want to estimate the fertility of bulls

Conclusion
When analyzing the fertility of a bull field level highlights a set of factors outside the bull himself.
However for a CIA with a significant number of bulls in the same production and practice management ejaculates (dilution, cooling and freezing equilibration), we can identify the factor "bull" weighs principally in the final result ( TNR).
The observation of this effect male lead us to think that perhaps in the near future can help improve fertility herds through active selection on factors that enhance this character in the male. In this sense it is very important that the CIA monitor this aspect (fertility of bulls) mainly due to the mass distribution of the same bulls in commercial herds.
A pragmatic improvement of fertility and the spread of AI bull rests on a study "individual" of each animal in relation to the number of sperm inseminated and fertility.
Bibliography
1. Aitken RJ, Gordon E, Harkiss D, Twigg JP, Milne P, Jennings Z, Irvine DS (1998) Relative impact of oxidative stress on the functional competence and genomic integrity of human spermatozoa. Biol Reprod. 59: 1037-1046.
2. ALVAREZ.JG, STOREY.BT (1983). Taurine, hypotaurine, epinephrine and albumin inhibit lipid peroxidation in rabbit spermatozoa and protect against loss of motility. Biol.Reprod. 29: 548-555.
3. Amman, RP and Almquist. 1961: Reproductiion capacity of dairy bulls. V. Detection of testicular deficiencies and Requirements for Evaluating testis function experimentally from sperm characteristics. J.Dairy Sci 12: 2283
4. MC Anchieta, Vale Filho VR, Colosimo E, Sampaio IBM, VJ Andrade, In: Discard and semen do Touros congelabilidade of Racas zebuínas and bullfighting em no artificial inseminaí§í£o central Brazil.Arq.Bras.Med.Vet.Zootec. v 57, n.2, p.196-204, 2005.
5. Batellier F, Vidament M, Fauquant J, Duchamp G, Arnaud G, Yvon JM, Magistrini M (2001) Advances in cooled semen, technology. Anim. Reprod. Sci 68: 181-190.
6. Beatty, R. A. , Bennett, GH, Hall, JG, Hancock, JL and Stewart, BL 1969. An Experiment with heterospermic insemination in cattle. J. Reprod. Fert.; 19:491.
7. Boichard, D., Barbat, A. and Briend, M. 1998. Evaluation des génétique Fertilité characters bovins laitiers femelle chez les. 5í¨mes Renc. Rech. Rum. , Paris 2-3/12/1998, sous presse.
8. Briandt-Amarat L, M Anton, Gérard O, D Etude Tainturier the in vitro Fertilité of taureauapres semence congélation LDL-décongélation avec le du jaune d oeuf de poule: Comparaison Optidyl avec l, based commercial diluer jaune d oeuf ., In: Vet Rec. 2006, 157.4, 205-212
9. Christensen P, Brockhoff PB, Lehn-Jensen H 1999. In: The Relationship Between Semen quality and the nonreturn rate of bulls. Reprod. Tuesday Anim. 34.503 to 507.
10. Christensen P, Jensen J, Stevang JP, Pedersen KM, Guo Z, Godfrey W, IR Korsgaard, H. Lehn-Jensen In: The Relationship Between Assessment of sperm quality by flow cytometry and bull fertility. 4th Annual Conference of the ESDAR, Prague, 23-25th November 2000, P.10
11. Colas, G. ; Menissier, F. ; Courot, M. and Paquignon, M. 1983. Techonologie artificielle et de l'insémination Fertilité du Male. Les Colloques of I'INRA, No 29 p.53-75. Colloques of "I'Insémination Artificielle et amélioration génétique": bilan et perspectives critiques, Auzeville Toulouse (France), 23-24 novembre 1983.
12. Collins, W. E. , Inskeep, EK; Dreher, WH; Tyler, WJand Casida, LE 1962. Effect of age on fertility of bulls in artificial insemination. J.Dairy Sci 45:1015-1018.
13. Corteel JM, Baril, G.and Leboeuf, B. 1980. Seasonal variation in the fertilizing capacity of washed deep frozen goat semen. "9th International Cong. Anim. Reprod. & AI", Vol II, p 396 (abstract), Madrid.
14. Coulter GH, Cook RB, Kastelic JP Effects of dietary energy on scrotal surface temperature, seminal quality, and sperm production in young beef bull J Anim Sci 1997 Apr; 75 (4) :1048-52
15. Coulter GH, Mapletof RJ, GC Kozub, 1987 WF Cates Scrotal circumference of 2 years old bulls of several breeds. Theriogenology, 27 (3): 485
16. Courot, JM; Goffaux, M. and Ortavant, R.. 1968. Analyses des variations des saisonnií¨res of Fertilité bovins franí§ais dans le Jura. Ann. Biol Anim. Bioch. Biophys., 8 (2): 209-216.
17. Ducos A, Dumont P, Séguéla A, Pinton A, Berland H, Brun-Baronnat C, Darre A, Marquant-Leguienne B, Humblot P, Boichard D, Darre R: A new reciprocal translocation in a subfertile bull. Genet. Sel. Evol. 32 (2000) 589-598
18. Decuadro-Hansen, G., Camus, A., Delhomme, G., Dumont, P., Marquant-Le Guienne, M. , Rouxel, M. and Lebreton, M.. 2000. Can be Achieved with good fertility low sperm concentration bull with egg yolk free frozen extender?. ICAR 2000, Stockholm, Sweden 2-6 July 2000 Abstratct 2, page 82, poster 15-8.
19. De Iuliis GN, Wingate JK, Koppers AJ, McLaughlin EA, Aitken RJ, (2006). Definitive evidence for the production of non mitochondrial superoxide anion by human spermatozoa. J Clin Endocrinol Metab. 91 :1968-1975.
20. From LAMIRANDE.E., JIANG.II. ZINI.A. KODAMA.II. GAGNON.C. 1997. Reactive oxygen species and sperm physiology. Rev.Reprod. 2: 48-54
21. Den Daas, N. 1992. Laboratory assessment of sperm characteristics. – In: Anim. Reprod. Sci; 28:87.
22. Dimitripoulus, E. 1968. Variations of the fécondité saisonnií¨res chez les bovis. Degré of male facteur responsabilité du du facteur femelle et dans l'évolution du processus cyclique the Fertilité. "6í¨me Cong. Inter. Reprod. Anim. INSEM. Art", Vol I, p 265-267, Paris.
23. Dumont, P. 1998. Appreciation of précocité sexuelle et du taureau intéríªt pour la reproduction in Mount naturelle ou in insémination artificielle. – Elev. et INSEM. N ° 283 Février 1998: 3-24.
24. Everett, RW and Bean, B. 1986. Semen fertility – An evaluation system for Artificial Insemination sires, technicians, herds and systematic fixed effects. J.Dairy Sci, 69: 1630-1641.
25. Foote, RH and Oltenacu, EAB 1980. Increasing fertility in artificial insemination by culling bulls or ejaculates Within bulls. "Proc. Od Art.Ins the 8th Tech Conf. Reprod." NAAB, 2-3 mai, p 6-12, Missouri.
26. RH Foote, MT Kaproth: Large batch freezing of bull semen: Effect of time of freezing and fructose on fertility.Journ. Dairy Sci 2002, 85: 453-456.
27. Foote, RH and Parks, JE 1993. Factors Affecting preservation and fertility of bull Sperm: a brief review. – Play.Fertil. Dev, 5: 665-673.
28. Fritjers YMCA, Mulder Luismtra-TA: Time of freezing and the use of sperm extenders based on egg yolk and soybean extracts in cryopreservtion of bull semen: effets on fertility in vitro and in vivo. Vets 2003 cattle AI session, Hungary p 6-13
29. Gérard O, Druard X, Selem E, Humblot P: Effects of antioxidants in Semen extenders on bull sperm motility and fertility. 18 th session cattle AI Vets 2006 11 to 14 October 2006 Boras, Sweden
30. Gilbert GR, Almquist JO, 1978: Effects of Processing Procedures on post thaw acrosomal retention and motility of bovine spermatozoa packaged in 0.3 ml straws at room temperature, J.Anim. Sci 46: 225-231
31. GRIVEAU.JF, Le LANNOU.D. (1997). Reactive oxygen species and human spermatozoa: physiology and pathology. Int.J.Androl. 20, 61-69.
32. Haferstroh R, Seegers H, Gerard O, Beaudeau F, Menjon P. Taux of non retour des taureaux d'insémination artificielle: facteurs of variation í l'Utilisation des liés taureaux et des femelles caractéristiques aux-support. Elev.et Insemin. 291 pages Juin 1999: 3-16
33. Humblot, P. 1991. – Signaux embryonnaires contrí´le et des ruminants of gestation. Vet Rec. , 167 (3/4): 193-202.
34. Humblot, P. 1986. The mortalité embryonnaire bovins chez les. In: 'Colloque La Société franí§aise pour l'Etude of Fertilité "Recherches sur l'épidémiologie récentes the Fertilité. – Pp. 213-246.
35. Humblot, P. and Thibier, M. 1981. Utilisation of Schémas thérapeutiques dans un program de Controle de l'infécondité dans un troupeau of vaches laitií¨res. Vet Rec., 157: 91-104.
36. Humblot, P., Decoux, G. and Dhornet, T. 1991. Effects of the sire and district of Al on cow fertility. Reprod.Tuesday Anim., 26: 225-234.
37. Januskaukas, A.; Soderquist, L.; Haard, MG; Haard, M.CH.; Lundeheim, N. and Rodriguez-Martinez, H. – 1996.Influence of sperm number per straw on the post-thaw sperm viability and fertility on Swedish Red an White AI bulls. Acta Vet. Scand.; 37: 461-470.
38. H 1982 Kupferschmied Recherches sur le passage des aux paillettes paillettes moyennes purposes insémination artificielle dans l bovine (German, translated title) Zuchthyg. 7 :67-71
39. Leboeuf B, Restall B, Salamon S (2000) Production and storage of goat sperm for artificial insemination.Anim. Reprod. Sci 62: 113-141
40. Lessard C, Parent S, Leclerc P, Bailey J, Sullivan R: Cryopreservation alters the level of the bull sperm surface protein P25b. Journal of Androl. Vol.21 No. 5, September / October 2000
41. Macmillan, KL and Watson, JD 1975. Fertility Differences Between groups of sires relative to the stage of oestrous at the time of insemination. Anim. Prod, 21: 243 (abstract).
42. McDowell, LR, JH Conrad, and FG Hembry. 1993. Minerals for grazing ruminants in tropical regions (2nd ed.).Anim. Sci Dept., University of Florida.
43. Makarechian, M. and Arthur, PF 1993. A comparison of natural service fertility of yearling and two year old bulls on pasture. Theriogenology, 39 (4): 835-845.
44. Melissa Meola G, Temple Grandin, Patrick Burns, Mark Deesing Hair whorl patterns on the bovine forehead may be related to breeding soundness measures. Theriogenology 62 (2004) 450-457
45. Mí¼ller K, Pomorski T, Mí¼ller P, Herrmann A (1999) Stability of transbilayer phospholipid asymmetry in ram sperm cells after feasible cryotreatment. J. Cell Sci 112: 11-20.
46. BB Murray, LR Schaeffer, EB Burnside – 1983 heritability of non-return rate of Canadian Holstein Friesian bulls.In: Can.J.Anim. Sci 63:39
47. Nehring H, Rothe L In: Insemination of cryopreserved bull sperm numbers portions with Reduced sperm after dilution with 2 egg yolk-free extenders. AI Vets Meeting 2003, Hungary 14-23
48. Pace, MM, Sullivan, JJ, Elliot, FI, Graham, EF and Coulter, GH 1981. Effects of thawing temperature, number of spermatozoa and spermatozoal quality on fertility of bovine spermatozoa packaged in 5 ml French straws. J. Anim.Sci, 53 (3): 693-701.
49. Pribenszky Cs, Molnar M, Horvath A, Kútví¶lgyi G, Harnos A, Szenci O, Dengg J, Lederer J: Substantial Increase of post-thaw survival of frozen bull sperm freezing assisted by hydrostatic pressure. 18 th session cattle AI Vets 2006 11 to 14 October 2006 Boras, Sweden.
50. Reurink, A., Den Daas, JHG and Willmink, JBM 1990. Effects of Al sires and Technician on nonreturn rates in the Netherlands. Livestock Prod Sc, 26: 107-118.
51. Saacke, RG, Nadir, S., Dalton, J., Bame, J., Dejarnette, JM, Degelos, S. and Nebel, RL 1994. Accessory sperm evaluation and bull fertility – An update. – Proc. Of the 15th Tech Conf Art Ins. Reprod. "NAAB, 22-23 avril, p 57-67, Wisconsin.
52. Saacke RG 1982: What Happens When sperm is frozen and thawed? NAAB 9th p 6-12
53. Salisbury, GWand Vandemark, DL – 1961. In: "Physiology of Reproduction and artificial insemination of cattle", p 361, WH Freeman and Co., San Francisco, London.
54. Schenck 17th NAAB Tech Conf on AI and Reprod. 25 to 26 September 1998 Quality and quantity of bovine spermatozoa from first and second ejaculates: Effects of collection and ejaculation frequency interval 59-62
55. Stalhammar, EM, Janson, L. and Philipsson, J. 1994. The impact of sperm motility on non-return rate in preselected dairy bulls. – In: Reprod. Nutr. Dev, 34 :37-45.
56. Sullivan, JJ and Elliot, FI 1968. Season and fertility in artificial insemination. In: "6í¨me Cong. Inter. Reprod. Anim.Insem.Art." Vol I, p 329-332, Paris.
57. Sullivan, JJ 1977. Sperm numbers required for optimum breeding efficiency in cattle. "Proc. Of the 3rd Tech Conf Ins.Reprod Art." NAAB, p 36.
58. Taylor, JF, Everett, RW and Bean, B. 1985. Systematic environmental, direct, and service sire effects on conception rate in artificially Inseminated Holstein cows. J. Dairy Sci, 68: 3004-3022.
59. Thibier M, Colchen-Bourlaud MA, Florin B, Baud C.-1972 Le choix du jeune sur sa fonction taurillon sexuelle.Elevage et Insemination 127: 3-44.
60. Trimeche A, Anton M, Renard P, GANDEMER G, Tainturier D. Quail egg yolk: a novel cryoprotectant for the freeze preservation of Poitou jackass sperm Cryobiology. 1997 Jun, 34 (4) :385-93.
61. Van Doormaal, BJ 1993. Linear model evaluation of non-return rates for dairy and beef bulls in Canadian AI.Can. Anim. Sci, 73: 795-804.
62. Van Doormaal, BJ 1998 Review of the Canadian Non-return rate system. Proc. Of the 17th Conf On Art.Ins. & Reproduction. NAAB 25-26 September 1998:14-17.
63. Wolfe CA, James PS, AR Mackie, Ladha S, Jones R (1998) Regionalized diffusion in the plasma lipid membrane of mammalian spermatozoa. Biol Reprod. 59: 1506-1514
The author will be present to provide a conference in Conference VI Taurus to Bovine
Source: ENGORMIX